BAKED HAM CHEESE ROLL-UPS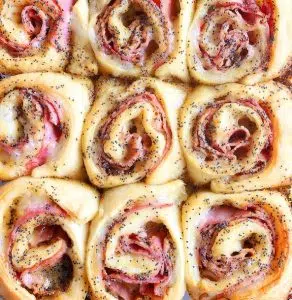 1 tube crescent dough sheet
¾ lb. Boar's Head SmokeMaster™ Black Forest Ham, thinly sliced
12 slices swiss cheese, thinly sliced
½ cup butter, melted
1 Tbsp. poppyseeds
1 & ½ Tbsp. yellow mustard
1 Tbsp. dried minced onion
½ tsp. Worcestershire sauce
Preheat oven to 350ºF and grease a 9×13 inch baking dish with cooking spray.
Roll out your crescent dough and and press into an approximately 13×18 inch rectangle. Top with ham and cheese.
Starting on the long side, roll the dough up tightly. Pinch the ends together and place with the seam facing down. Cut into 12 pieces.
Place your rollups in your baking dish, evenly spaced.
Meanwhile, in a small bowl, combine the butter, poppyseeds, mustard, onion, and Worcestershire sauce. Pour the sauce evenly over the rollups.
Bake, uncovered, for 25 minutes until lightly browned.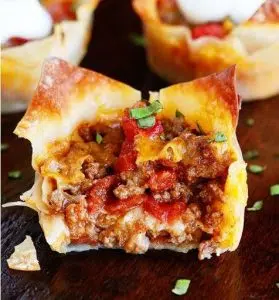 1 lb lean ground beef, browned and drained
1 envelope (3 tablespoons) taco seasoning
1 (10-oz) can Ro-Tel Diced Tomatoes and Green Chiles
1 1/2 cups sharp cheddar cheese, shredded (or Mexican blend)
24 wonton wrappers
Preheat oven to 375 degrees F. Generously coat a standard size muffin tin with nonstick cooking spray.
Combine cooked beef, taco seasoning, and tomatoes in a bowl and stir to combine. Line each cup of prepared muffin tin with a wonton wrapper. Add 1.5 tablespoons taco mixture. Top with 1 tablespoon of cheese. Press down and add another layer of wonton wrapper, taco mixture, and a final layer of cheese.
Bake at 375 for 11-13 minutes until cups are heated through and edges are golden.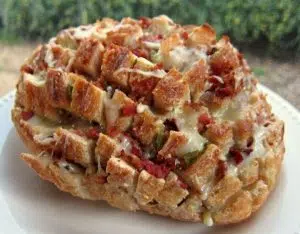 1 16oz round sourdough loaf, unsliced
8 oz cream cheese softened
2 Tbsp pickled jalapeño pepper juice
1 tsp garlic powder
1/4 cup diced picked jalapeño peppers
3 Tbsp bacon bits
1 cup monterrey jack cheese, shredded
Preheat oven to 350 degrees.
Using a sharp bread knife cut the bread going both directions. Do not cut through the bottom crust.
Mix together cream cheese, jalapeño pepper juice and garlic powder. Spread cream cheese mixture in between cuts. Sprinkle diced jalapeño peppers and bacon bits on bread, making sure to get in between cuts. Top bread with cheese, getting in between cuts.
Wrap in foil the entire loaf in foil and place on a baking sheet. Bake for 15 minutes. Unwrap (I just open the foil packet to expose the bread). Bake for an additional 10 minutes, or until cheese is melted.