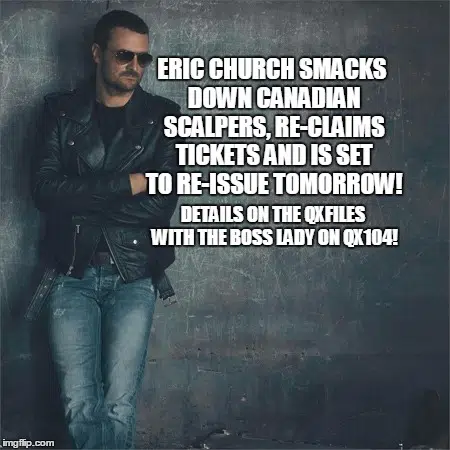 Eric Church is pretty epic in a lot of ways but I adore him for the war he's waged on ticket scalpers on behalf of his fans!  Today his camp announced they have re-claimed thousands of tickets scooped up by scalpers for his Canadian shows and they will re-release them for sale tomorrow (February 9th) at NOON through ericchurch.com!
Today's press release reads:
"Continuing his ambitious war against ticket scamming for this year's tour, Church has ensured that more fans have the chance to see the show at face value, already revoking thousands of tickets bought by scalpers on previous dates. Church continues to combat scammers with his proprietary presale process and delayed delivery tickets, making it tough on them to resell.

All fans who hope to see "one of country's smartest, most ambitious singers and songwriters," (Vulture) from beginning to end on the Holdin' My Own Tour, need to ensure they take their seats by 8:00 p.m. local time, as Church will kick the show off promptly with a huge moment, without any opening support preceding. The double-set show will feature a 360-degree stage that offers fans great views from anywhere in the arena.
For the first time on a tour, concertgoers will be able to purchase Church's custom boot line at the venue (no longer a VIP-only experience). In September of 2014, Church partnered with Lucchese Boots to launch his exclusive signature boot line, These Boots by Lucchese. Each pair has the lyrics to the song "These Boots" in Church's handwriting laser etched into the sole, and are handmade in El Paso, Texas. Fans can pre-order boots ahead of time and get fitted at the venue by our team of boot specialists. For more information and to pre-order visit www.ericchurch.com/theseboots.
The Holdin' My Own Tour comes on the heels of Church winning Album of the Year at the CMA Awards with his critically acclaimed, surprise-release album, Mr. Misunderstood. His most recent single, the thought-provoking ballad, "Kill a Word," highlights, as Billboard claims, Church's "impressive voice, as well as his songwriting skills." Church also released a live album in November, Mr. Misunderstood On the Rocks Live & (Mostly) Unplugged, recorded at Morrison, Colorado's Red Rocks Amphitheatre, where the singer/songwriter announced his 2017 tour directly to his fans at the show.
2017 Holdin' My Own Tour Canada dates are as follows:
Tuesday, February 28: London, ONT Budweiser Gardens
Thursday, March 2: Toronto, ONT Air Canada Centre
Friday, March 3: Ottawa, ONT Canadian Tire Centre
Saturday, March 4: Montreal, QUE Bell Centre
Tuesday, March 7: Winnipeg, MB MTS Centre
Thursday, March 9: Saskatoon, SK SaskTel Centre
Friday, March 10: Edmonton, AB Northlands Coliseum
Saturday, March 11: Calgary, AB Scotiabank Saddledome
Tuesday, March 14: Vancouver, BC Rogers Arena

For further details on the ticketing system plus information on VIP packages, These Boots by Lucchese and Church's custom-designed Gibson Hummingbird Dark on tour, stay tuned to www.ericchurch.com."