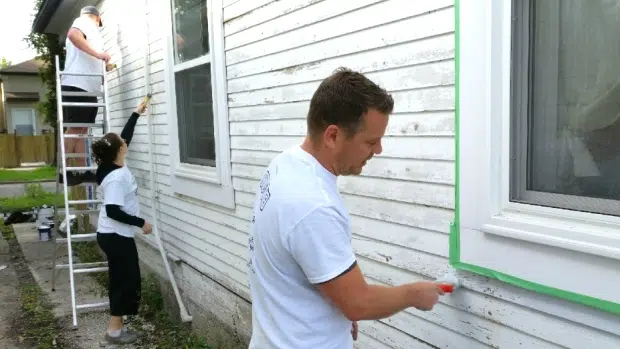 BRUSH UP Winnipeg is about to begin. It's a house painting program , run by Take Pride Winnipeg  ,where homes based on financial or physical restraints of a home owner , are selected. It's painting the homes of neighbours in need , helping to  beautify  the whole community. Homeowners  and their neighbours appreciate the difference; some homeowners even brought to tears at the metamorphosis !
Corporate Volunteers  put on the duds and pick up a brush during large scale paint days in June and September. One home owner last year is quoted as saying…"words cannot express how deeply touched I am, to have my house look so fabulous." Unquote. To date over a 100 Homes have been " Brushed-Up".
Thanks to M.P.I, The Insurance Brokers of Manitoba , Dulux Paint , Home depot , The Free Press and the city for cleaning and greening up Winnipeg. Homeowners can apply via application forms in the Winnipeg Free Press March 27th,  April 1st , 7th , and 15th. How to apply is also available on the website at www.takepride.mb.ca. May 12th is  deadline , so hesitate not!