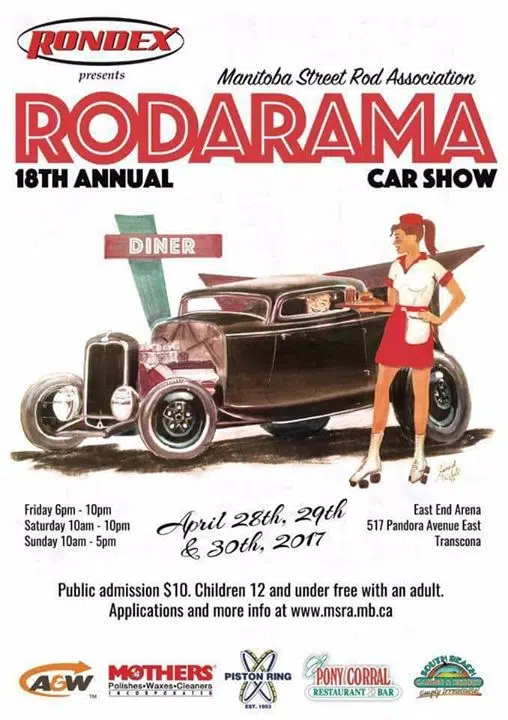 Events for April 28th Thru 29TH;
CAR BUFFS will head to East End Arena for RODORAMA presented by the Manitoba Street Rod Association- Customs , Rods  and Classics – Friday Saturday and Sunday. http://www.msra.mb.ca/Rodorama.aspx
SATURDAY-Check out International Tabletop Day for  casual gaming at McNally Robinson beginning at 10am. Demo sets available and it's FREE.
Blue Bomber Mini-Camp continues at Investors Field.
SATURDAY- It's The Half-Moon Market -120 King street-30 local artisans-shoot pool and enjoy a choice from 150 beers. 11am to 7pm.
SUNDAY-The Caboto Centre-1055 Wilkes- Family Fun & Learning Fair- 30 exhibitors -930 am to 330pm http://www.winnipegparent.com/
ON This weekend- St. Vital Center- Children's Hospital Book Market – http://goobear.mb.ca/events/childrens-hospital-book-market
SUNDAY-The kick-off for the Week-long , Winnipeg Wine Festival-RBC Convention center-http://www.winnipegwinefestival.com/public-tastings.html
FRIDAY and Saturday- U of M- Mauro Centre for Peace-Winnipeg International Storytelling Festival-FREE-http://www.todocanada.ca/city/Winnipeg/event/Winnipeg-international-storytelling-festival/
SATURDAY- International Astronomy Day- Manitoba Museum on Main street-Planetarium;
THEATRE- Plays –Entertainment:
MTC Mainstage- Sarah Ballenden – royalmtc.ca
Gretel and HANSEL-MTYP-The Forks
Manitoba Opera- Saturday Night – Concert Hall-Massenet Werther- manitobaopera.mb.ca
CELEBRATIONS dinner Theatre- Greased 2- www.celebrations.ca
SUNDAY- Westworth United for the Mennonite Collegiate Chamber Choir from Gretna," Happy Birthday Canada"- www.winnipegsingers.com
SATURDAY-Coffee House Concert-Enharmony at Young Unitedn 7pm
WESTEND Cultural Center-Friday night-Scott Nolan & William Prince; Saturday- night it's Prairie Kitchen Party-East Coast Calling
Park Theatre-Concert for Cancer Care- The Bobby B. Bazoo Blues Band-Friday and Saturday
NEW MOVIES!
COLOSSAL- Anne Hathaway  Stars – Grant Park Theatre – gets 3 and half stars.
THE CIRCLE- TOM HANKS and Emma Watson Star in this futuristic film , which many say is already happening- at 5 Theatres-Here's  The Trailer.