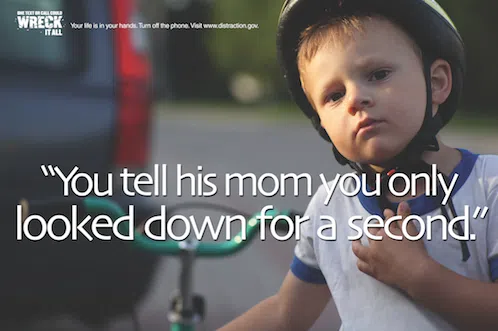 DISTRACTED Driving is a KILLER! It's a major problem. Despite it being almost a necessity for many, the SMART-Phone might be called a Hazard! National Road Safety Week hopes to make more drivers aware of how dangerous distracted driving can be and  hand-held cell phones are  part of the problem.
We live in a society where most think it's important to be in contact at all times. Using the Smart-Phone makes it easy. Even though a call could go to voice mail or e-mail , most don't allow this. It becomes a dangerous distraction while behind the wheel. We become an impaired driver.
Impairment happens when we lose sole focus on the road. Distracted driving isn't limited to our cell-phone. Eating, grooming behind the wheel, reading or using GPS lead to slower reaction time and impaired judgment. Latest stats show texting drivers are 23time more likely to be involved in a crash. A quarter of collisions in Canada are due to driver distraction. The age group most likely to be distracted and involved in fatal crashes are 20-34 year olds. If you have a story related to Distracted Driving please share it by sending a message on Twitter @CanadaSafetyCSC#CanYouSeeThem.  Let's help raise awareness.