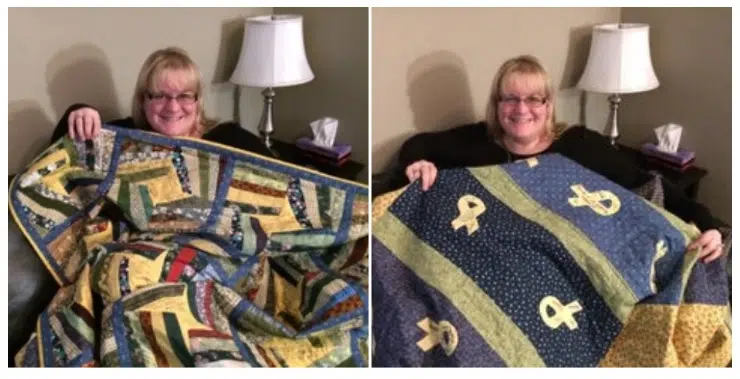 QX Nation member, Cathie Brereton, heard me tell the story of "Alpha"… the service dog who attends high school with his Andrew (a 16-yr-old living with Type 1 diabetes) and who became so popular that he made the high-school yearbook with his own portrait beside Andrew's… and it inspired her to share this equally wonderful story about a mom who found a way to send the comforts of home with her daughter on her tour of duty in Iraq…
Carol's "Comfort" Quilt
By:  Cathie Brereton
Carol, a dear friend, is a very talented and thoughtful quilter.  She loves doing 'Scrappy' quilts and always quilts them by hand.  A few months ago, we were roommates at a quilting retreat and I asked what she working on.  As she stitched, she told me the story.  I couldn't keep my tears at bay.
[She] explained, "my daughter Laura, is going to Iraq for a tour of duty and I wanted her to take a quilt.  It has to be small enough to fit in `regulation` space, yet big enough to wrap her in 'comfort' while she is away from family and home."
Carol always adds a special touch to her quilts; a special piece of fabric with memories attached or the sentiment and significance of the quilt pattern itself.  She had an idea for this quilt – family and friends could sign the quilt!  Many messages and signatures took up blocks on the quilt front, but what about those who lived elsewhere?  Time was short; she had to figure out how to include them.
The idea came to her while she worked on Quilts of Valour, "a yellow ribbon!"  So she cut out yellow ribbons and sent them out.  As the yellow ribbons started to return, Carol lovingly stitched each one onto the back of the quilt.
During the retreat, there is an opportunity to 'show and tell', so I coaxed Carol to tell her story about this special quilt.  I, and many other quilters were given the privilege to add our own well wishes and signatures.
There was hardly a dry eye in the room as quilters lined up to add their messages and signatures.
As quilters, we all love our hobby, but, sometimes the quilts are stitched with love that brings special comfort to the receiver.
This special quilt is on Laura's bed in Iraq bringing her a touch of home.
BEAUTIFUL!!!  Thanks for sharing your story Cathie! <3