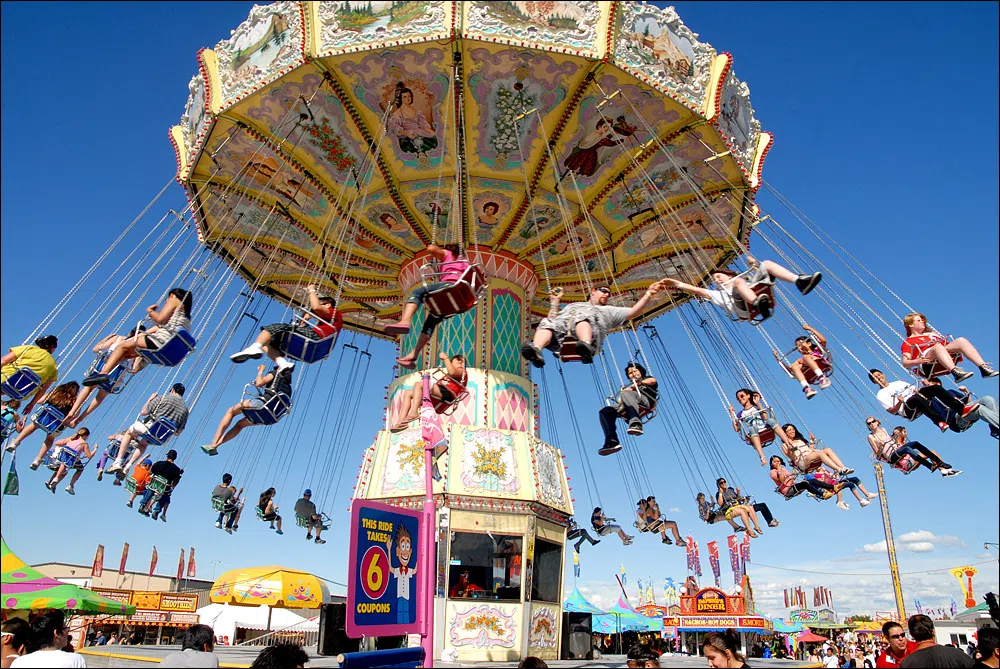 It's the FINAL Weekend for Catching tons of Entertainment and dare to ride at the Midway- The EX Wraps up  SUNDAY- Fireworks  on Saturday Night http://www.redriverex.com/
ON Now -Rainbow Stage presents , "The Little Shop Of Horrors", under the DOME  in Kildonan Park. http://www.todocanada.ca/city/winnipeg/event/little-shop-horrors-2/
ON NOW it's Cirque du Soleil's KURIOS in the Big Tent off Sterling Lyon. http://www.todocanada.ca/city/winnipeg/event/cirque-du-soleil-kurios/
Final Weekend for the International JAZZ Festival. www.jazzwinnipeg.com
RACING at TheDowns-Friday and Saturday NIGHT.
SUNDAY NIGHT- Ladies Night Out at Canadian Tire, Polo Park: FREE Admission from 6-830Prizes- food- music and it's all FREE . Sunday Night.
SATURDAY afternoon at 4pm on the Red River at the harbour in front of St. Boniface Cathedral , expect to see 150 Canoes in celebration of Canada 150!! http://www.theforks.com/events/calendar-of-events/display,event/2459/150-canoes-on-the-red
SATURDAY and Sunday – East Selkirk, Legacy Park for the annual Manitoba Highland Gathering. communications@manitobahighlandgathering.org
SUNDAY – Canadian Museum For Human Rights- The Ride Don't Hide  , for Mental Health. http://www.theforks.com/events/calendar-of-events/display,event/2457/ride-don-t-hide
THE ZOO- 16 Fabulous Animatronic Dinosaurs along the path.
Winnipeg Art Gallery-WAG-for PICASSO.
SUNDAY-Centennial Concert Hall-2pm- Beethoven Lives Upstairs-https://wso.ca/upstairs/
Manitoba Museum- presents the World's Largest Dinosaurs.
Saturday and Sunday- ROMEO and Juliet-Live, open air theatre at the Trappist Monastery in St. Norbert.
SATURDAY- Asper Theatre-400 colony-3 and 6pm-40 Dancers presents the heartwarming children's classic-The Velveteen Rabbit.
ASSINIBOINE Park-Saturday-10am- The Brain Tumour Walk….Sunday at 1pm , it's  Paws in Motion  with BRODY Jackson  and Nella.
SATURDAY- The Homesteader Festival- Teulon-http://www.todocanada.ca/city/winnipeg/event/diy-homesteader-festival/
On Now- Celebrations Dinner Theatre- Downtown Abbey Road.
LYRIC Theatre in the Park- Sunday- FOLKLORAMA IN THE PARK with Andino Suns, Latin/World Beat.
***********************************
NEW MOVIES This Weekend:
BEATRIZ at Dinner-Stars Selma Hyek and John Lithgow-Grant Park.
47 METERS Down-A Shark Diving Thriller on now  at McGillivray.2 Stars.
CHURCHILL– Biopic-Prior to D-Day-Brian Cox is amazing , but the story only receives 2 stars-Grant Park.
TRANSFORMERS: The Last Knight-Mark Wahlberg's last performance in the series-Expected to be the box office leader with 6 theatres showing this……