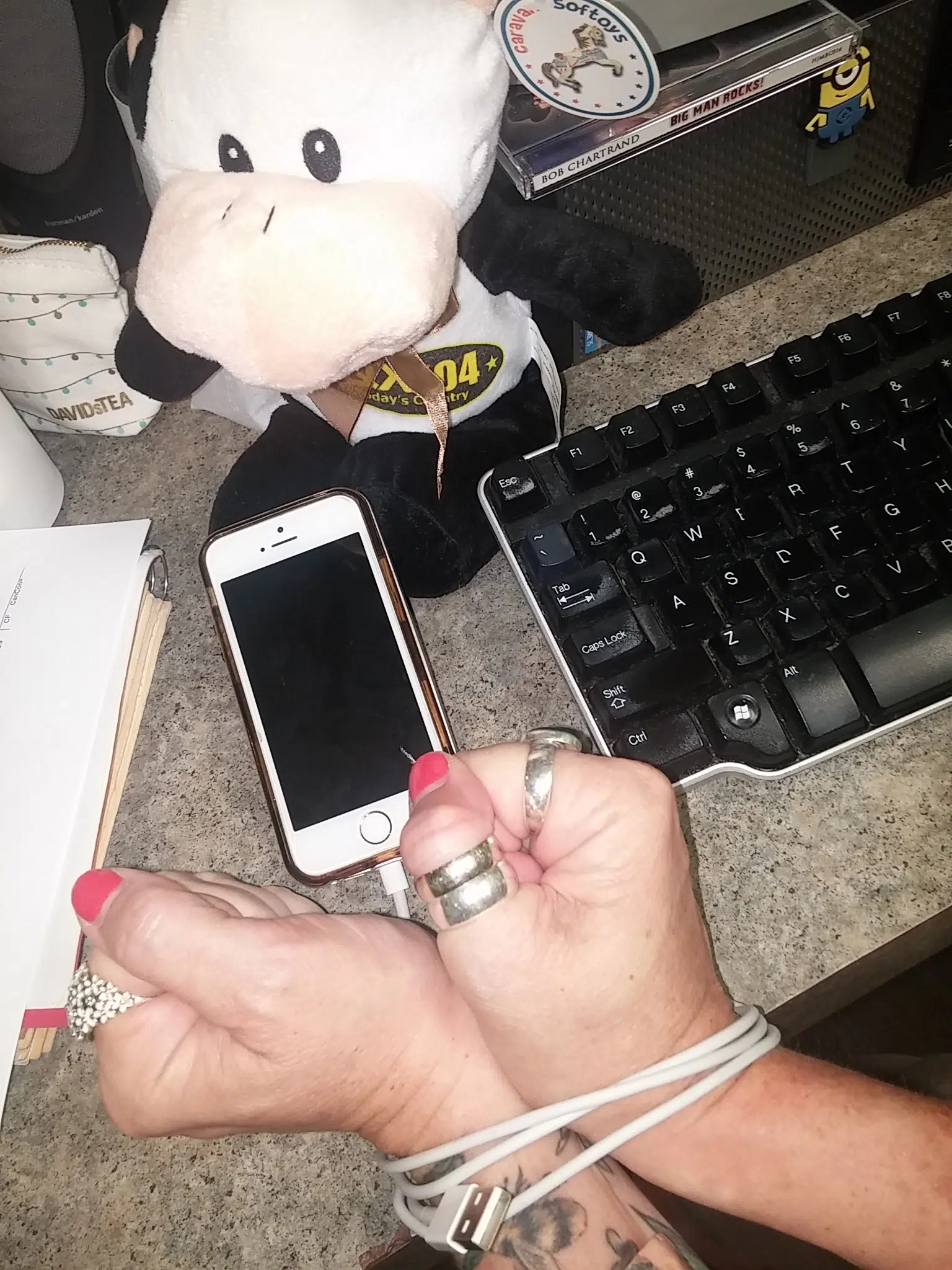 I am all too well aware of the fact that I have a bad habit (or 10, but we're going to focus on just this one for now 😉 ) … I am a slave to my mobile phone.
It's kind of an occupational hazard really.  Consider that I not only maintain my own social media accounts (Facebook, Instagram, Snapchat & Twitter…in that order of priority — sorry Twitter) I also do my part in contributing content regularly to the radio station's Facebook, Instagram, Twitter, Snapchat and website.  Throughout my show, listeners will interact with me on social media so it is something I have to monitor (albeit on a desktop computer during that time) in addition to the station text platform and Open Mic feature on our QX104 app  (There are also phones and email to answer during that 4 hour shift…oh yes!…and a show to do!) it's busy to say the least and cycling through all of the different platforms to look for messages/comments etc. becomes second nature…and is constant.
You can see how habit-forming checking and re-checking could become… CAN become…can and did.  Even after work, I know I compulsively check my phone FAR too often and would love to learn to curtail that habit.  I already leave it in my purse when sitting across a table from another human being, out of respect for human interaction…but I know there's more I could do when I'm on my own.
I came across a great article on UPWORTHY today and thought I'd share because the original author of this piece has some great ideas on, not abandoning your phone altogether but, developing a healthier relationship with your mobile devices.  He has a set of rules he implemented… I'll paste a few below (there are 10 total) and link you to the full article…
"I didn't take a "digital detox" and completely abandon social media for a brief period of time because that feels more like a temporary treatment than an actual solution. I might have felt better for a couple days, but once I returned from my detox, I assume everything else would have gone back to "normal" — and normal wasn't working for me.
I set out to change my phone habits and create a simple set of rules to limit the negative (and amplify the positive) impacts of when and how I use my phone.
What I came up with was this set of 10 guidelines to ensure I used my phone with more intention. They made a huge difference in how often I check my phone, what I get out of it, and how I feel about it.
1. I stopped checking my phone in my car.
2. I stopped checking my phone during TV commercials.
To help me stick with this rule, I implemented another one…
3. I kept my phone across the room when I wasn't using it.
4. I turned off all notifications. … "
As mentioned above, there are 10 rules in all (and the author expands on them in the original piece which you can see in its entirety here) but #4 really stood out for me.  When I see little red notification bubbles on my home-screen, I feel compelled to check to see what they are about.  I already switched off my email notifications for everything I possibly can…but, recently, I turned off notifications for Twitter, Snapchat and Instagram and I can attest to the fact that, although I know activity is happening, I do not feel as compelled to check on it when I don't see those little red notifier bubbles… If nothing else, give THAT a try and see if it doesn't help.
We'll be discussing ideas this afternoon on the QX104CoffeeBreak after 2:20pm… if you'd like to join the conversation, call 201.780.1041, text 10401 or comment on the Facebook post that will appear after 2:10pm.