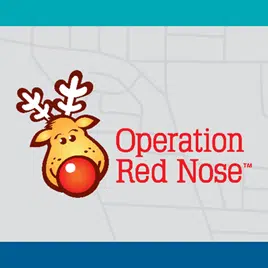 Operation Red Nose are already hard at work for the season; so much so that they need more volunteer drivers! The organization are down in numbers this weekend as well as next, but really pushing for more for New Year's Eve since it's their busiest night of the year.
As said by Operation Red Nose themselves:
We know it is hard for people to commit to a night away from their life to help.  However, this would be one of the biggest Christmas Presents you have ever given; making it safe for more to get home safely.  Some common misconceptions for those thinking about the prospect:
Most of our clients have just had more than they think is safe to drive; a great step to good responsible drinking/driving behaviour.
The Clients never set foot in your car (our Team cars).  They ride home in their own cars with two of our volunteers.  They are followed by a chase vehicle that our volunteers get back into once the client is at the destination.
All of our operations in Winnipeg are GPS guided.  A client calls and books a ride with our operators.  On a digital map of Winnipeg we can see every one of our Teams, it shows the Clients location, and once picked up it shows their destination.  Then we try hard to match Team and Client locations for high turnover.  Best of all, if requested we pay mileage while active with Clients at 15 cents per kilometer at the end of the night.
Our Teams are made up of three members: the Escort Driver who provides their car for the evening…and is the chauffeur for the Team; a Designated Driver for the Clients car; and a Navigator who always travels with the Designated Driver in the Clients car.
The ride is free, however for Clients wishing to make a donation, the money (100%) goes to Youth Sport, and in Winnipeg that is the MANTA Swim Club.  Our Teams take cash, or a cheque payable to "MANTA Swim Club".  They will even stop at a bank machine for Clients.
If people consider driving for Operation Red Nose in Winnipeg, they should visit our web site a couple of days prior to the night they want to work at 

www.rednosewpg.ca/volunteer

.  On this site they choose Volunteer, fill in the form and Submit.  We will ask to see their Drivers License on the night they come for verification.
(Photo credit: Operation Red Nose)