When's the last time you didn't get what you wanted…and it turned out to be just what you needed?
This is my first day back to work since my total right knee replacement over 2 months ago.  It's about 3 weeks later than when I wanted, and fully expected, to be back when I embarked upon this journey.  It's also at least 3 weeks LESS than what my surgeon wanted me to take to focus full-time on my recovery (2 months more is what he actually wanted…)  Having a body part replaced, as it turns out, is a pretty big deal…who knew?!
My delusional fantasy expectation:  I wanted to rockstar the recovery and be back in 4-6 weeks with my shiny new "bionic" knee.  No matter that I prepared to the nth degree and took every step I could to make sure I could make a "superhero" return to work in record time, the reality was more like this:  Like it or not, the medical professionals have a pretty good idea how these things go and recovery takes REAL TIME and the only super power this kind of "bionic" implant gave me was the ability to prove, my father, Papa Gerry's life-long assertion that I, "have only two speeds…slow & STOP!"
So, my expectations for a speedy recovery were a bit (okay a lot) over-enthusiastic and the surgeon's estimate of 3-5 months was closer than my 4-6 weeks but, in the end, the 2 months I actually ended up having to take were (and I reluctantly admit this…but I CAN admit when I'm wrong) exactly what I needed.
I'm so used to "running" all the time… to the gym, to work, to event, after event, after event, to volunteer, to see friends, to do errands etc. etc. etc. (rinse/repeat) that the thought of being sidelined for all that time was TERRIFYING!  Never mind the part where I knew I'd miss my show and daily interaction with the QXNation it was just the idea of being "idle"… It didn't compute… I didn't have any idea how to "sit still" for that kind of time BUT …
…Once I got it through my head that this was going to take exactly how long was necessary, and not how long I wanted, I started to really lean into:
a) the tasks at hand, namely, re-teaching my knee how to bend, stretch and straighten and how to walk, climb stairs etc.  All of that had to be worked on (and still does…my knee still only bends to 94 degrees and I need to get it to 120-130) and worked on HARD.  The exercises are extremely painful. Tears became a part of the day (several times a day) but the hard work has to be done or…new knee/no work…
and
b) the opportunities that present themselves during all of the icing that much physical stress demands…fully half of the last two months of my life has been spent with my leg elevated and wrapped in a cuff attached to an ice machine that circulates freezing cold water all around my knee
(I HIGHLY RECOMMEND this to anyone considering this surgery)… and other time through the day where, without the usual commitments of my life, I could decide to do some other things I don't normally have time to do, like read. These Robin Sharma books were good, uplifting reads: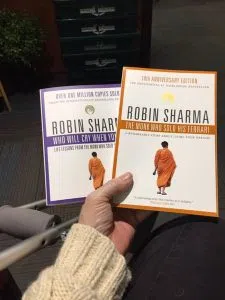 I was able to catch up on things I never had time to watch on Netflix (The Good Girls, Brooklyn 99 are both good shows to binge-watch, I reminded myself how much I loved the angsty tale of Lizzy and Mr. Darcy in Pride & Prejudice and that cheesy looking "Set It Up" movie with Lucy Liu was actually pretty good …or…maybe that was just the drugs 😉
I also had to sit back and let people come to me and do things for me (something I'm not comfy with, normally) … I got to spend 10 glorious days with, my mother, Mama Jane (who flew in from Ottawa to be with me through the surgery and early stages of recovery).  One of my absolute nearest and dearest, Nan (also from Ottawa and who never leaves home unless she's headed for a Cuban beach,) flew to spend 4 days with me after my mom had to return home.  My friend Kim and her husband Doug (also my friend) were unbelieveably helpful (there isn't enough room or time to list all of the things they did to help me but OMG THANK YOU BOTH)  My friend Lindsay was amazing… Kevin at Gauthier Chrysler Dodge Jeep Ram went over and above for me again, fixing a tire for me and also sourcing some matching paint for my 2005 G6 so I can do my "Hillbilly body work" (aka spraying over the rust 😛 ) when I'm a little better.
Friends like Brigette Fisher and Quinton Blair and his amazing girlfriend Vanessa pre-made me meals and brought them so I wouldn't have to cook when I got home from the hospital (okay… QB brought Vanessa and the meals here, Vanessa did the pre-making …but still!)  One lovely week day, Nanci Dagg brought everything you could imagine at a fancy garden cafe to my house and we got to sit and enjoy each other's company, a gorgeous meal, and a very, verrrry, leisurely post lunch walk around the block (I 'lurched' …she walked but why split hairs? 🙂
I also had the time to go to multiple appointments/week with the amazing D'Arcy Bain, of D'Arcy Bain Physiotherapy, who has helped me so much through the difficulties this new knee has presented me with I can't even begin to thank him enough.  There are so many people I had the chance to sit, catch up, laugh and just VISIT with that I otherwise would not have been able to.  I even got to spend a whole bunch of guilt-free time snuggling (as much as she'd let me) with Boss Kitty Polly Prissy Pants!
Major surgery requires serious recovery time.  As a wise friend advised, "You only get one chance to do this right…it's your health…don't blow it all for the sake of rushing back to being in a rush all the time.  Your busy world will be waiting for you when you catch up, take your time." (See?  I told you…wise words!  I have awesome friends!)
Sometimes getting stopped in your tracks and sidelined for a while is just what the doctor ordered (figuratively and, in this case, literally 😛 ) The Rolling Stones had it right, "You can't always get what you want but…sometimes, you get what you need."