If you've gone camping with your dog before, you know that they can do one of two things…enhance your experience, or totally ruin it! This morning, a pal of mine sent me a picture of him driving home just one night into his supposed week long camping trip because his pup chased a skunk. Next thing you know, the dog and camper turned into a serious stench zone, and the trip is over.
Thankfully, Nala didn't see any fart squirrels on our first trip into the wilderness! We did, however, see a ton of other wildlife as the two of us set out on a one night journey in Black Lake. If you haven't been, I highly recommend it. With a beach on the campground, sites that are protected and far enough from other sites, and a bunch of beautiful hikes nearby, Nala and I were in heaven. We took our Chevrolet Colorado from Birchwood Chevrolet Buick GMC for the nearly three hour drive and found that the travel is definitely worth your time.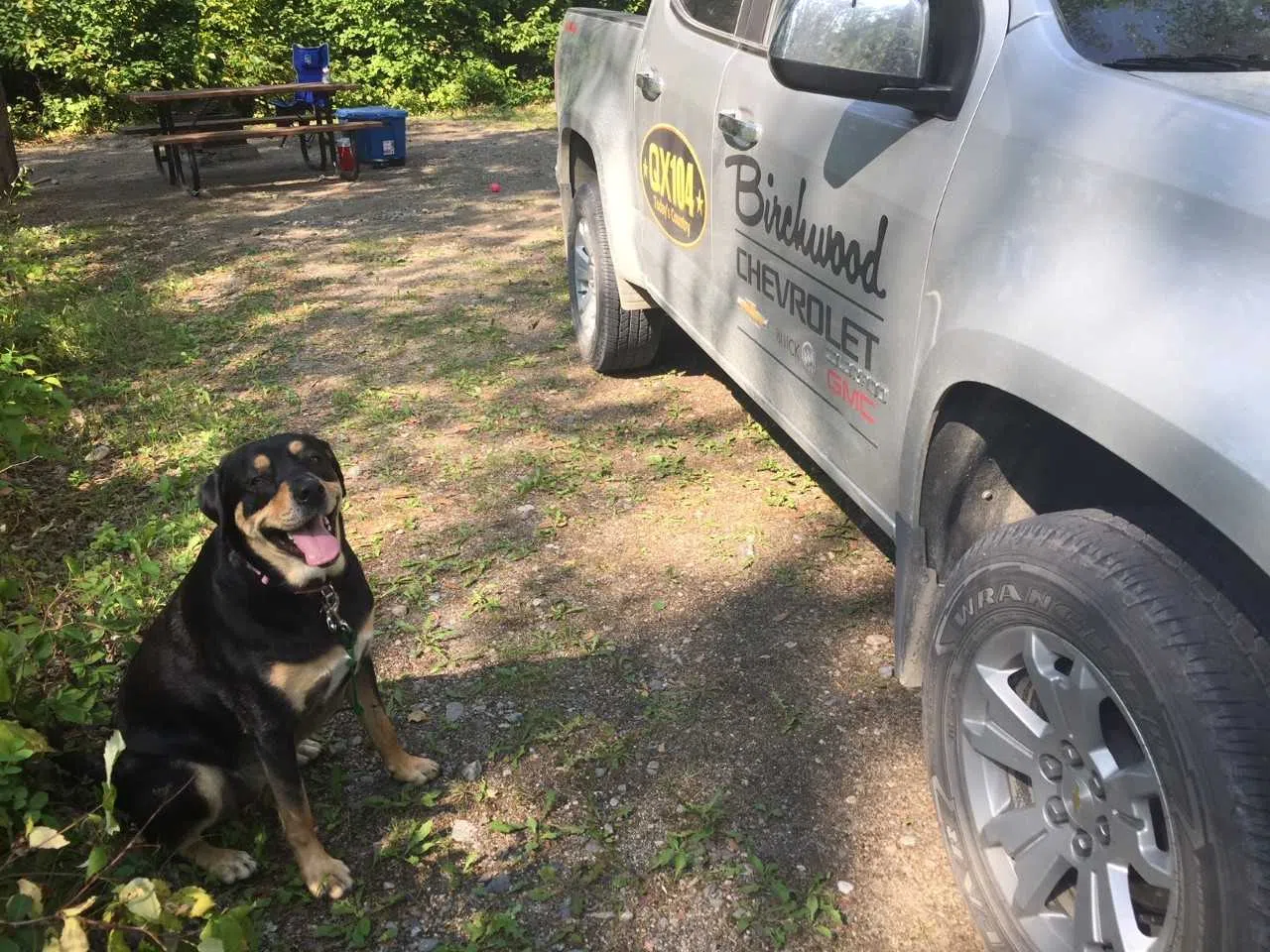 After playing "fetch" off of a hidden beach that you could hike to from the campground, we followed that up with another hike called "Ancient Mountains". Here, you really get an opportunity to take in a breath-taking view of Nopiming Provincial Park and nearby Tooth Lake. If you take your pup, make sure that he/she stays hydrated as it can get pretty hot up on the rocks. Also, if your dog is a bit smaller, you may have to pick them up to get them up to certain areas…luckily, Nala's legs are long enough so I didn't have to haul her 85lb body over my shoulders.
There was only one issue that the two of us ran into on our first camping trip together. A lack of sleep. For both of us. Since she's a rescue, Nala does battle a bit of anxiety, and while nature was comforting, a two man tent wasn't exactly that…unless I wasn't in it. While I started a fire, I couldn't find Nala anywhere…quickly following her long rope, which was attached to the picnic table, I found her relaxing in the tent with her stuffed bear. "GREAT", I thought, "she loves the tent". Bad assumption. She loves it by herself. The minute I was in there, as we hunkered down for the night, she began to pant, feeling claustrophobic. The only time she actually managed to doze off was when she would place her behind directly into my face. Safe to say, neither one of us got much rest.
But hey, totally worth it. I'll gladly lose sleep to a wilderness experience like camping in Black Lake.