The Second Annual QX104 Slo Pitch 4 a Wish is in the books, and boy was it an incredible weekend. Because of our incredible tournament participants, $93,000 was raised by the slo pitch teams by Saturday morning. Every single one of those dollars goes directly to the Children's Wish Foundation, ensuring that at least 8-10 wishes will come true for children who really deserve them. We cannot say thank you enough…in fact, here's a full list of thank you's that definitely need to be dished out!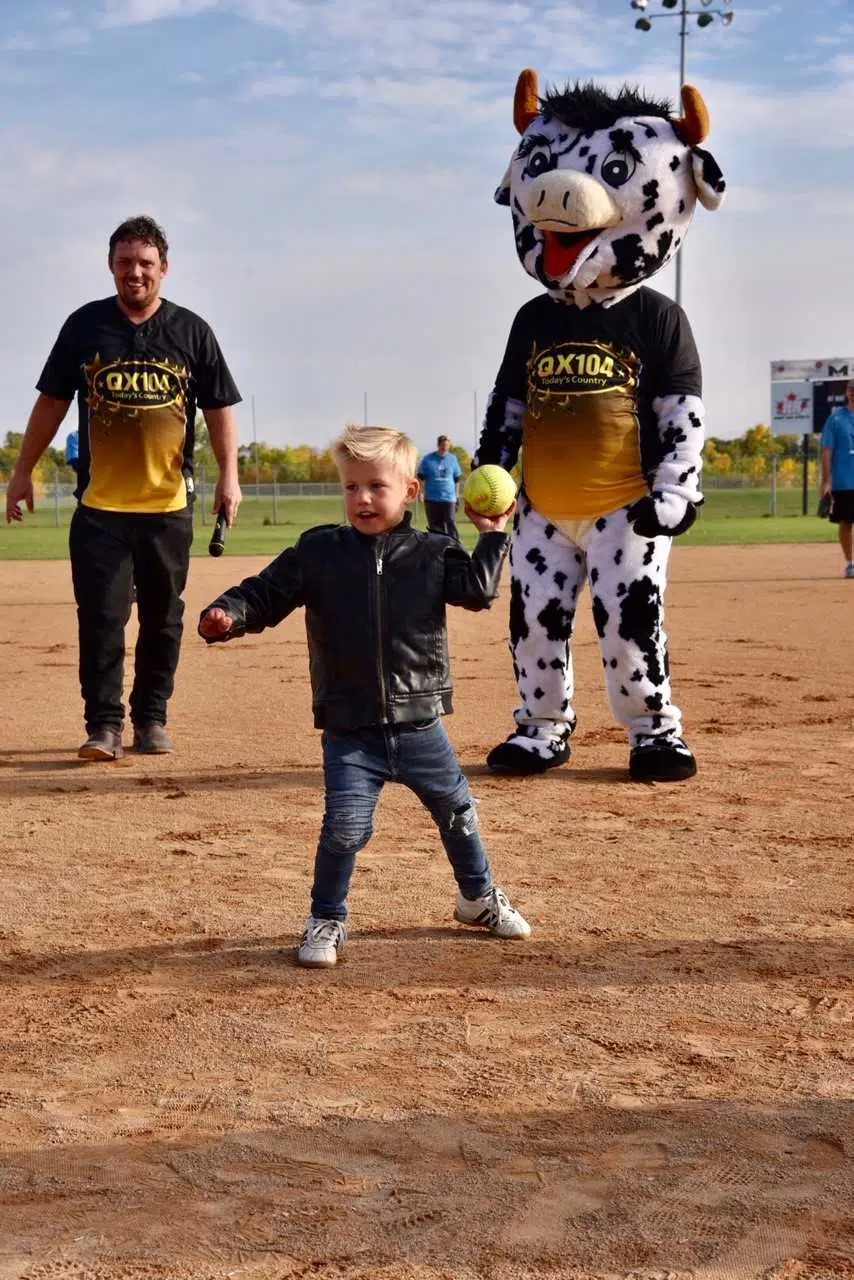 Thank you to our volunteers. The Dream Team. You put in a ton of hours and you do it with a smile. I appreciate you so much.
Our amazing QX104 staff. From on air, to sales, to management, programming, creative, production, and promotions…we work in a wonderful building. Thank you to our President, for making his way all the way from B.C…only to ruin his shoulder. Whoops. Lol.
To our sponsors. Thank you. A million times over. You help us put on a massive fundraiser with a load of entertainment for the people who are spending their weekend donating to Children's Wish. And to those who donated rainbow auction prizes, you helped raise even more money. Thank you!
Our Canadian country artists. Again, you get a call to action, and you step up like you always do. I like this genre because of the music, but love it because of the artists. You're good people. The concert was over the top, and the celebrity game worth the price of admission alone. Doc Walker The Washboard Union Jojo Mason Jason Petric Tom Petric David James MusicLeanne Pearson…and Dan Swinimer, my banana lovin' music guru.
Marshall Shuster, you're a beast. Thank you for everything you do leading up to the tournament and then dealing with the gong show that is the weekend. And thank you to your staff at Blumberg!
Birchwhood Chevrolet Buick GMC, for letting me take the truck to the ballpark for the weekend…where it managed to have a couple of sleepovers.
Our first aid crew! Thanks for being there.
Children's Wish Foundation Manitoba & Nunavut Chapter, especially Leila Dance. Thank you for all of your effort leading into and during the weekend.
Andrew Collier, you were a fabulous celebrity ump!! If you ever get tired of winning championships, there'll be a slo pitch umpiring uniform with your name on it.
Jay Pea, you gentle giant. Donating your time to keep us all safe, can't wait for another hug…and to watch you slo dance with my Dad again.
Jim Hollingsworth, appreciate the help as always, from you and your team!
Nicki Burbank, your Kids Zone makes me want to skip baseball and just hang out in the tent. I'm wearing my cleats in the bouncy castle next year.
Ruth Kresnyak, if it wasn't for you, it would take us 4 months to figure out this whole money thing. Thank you and your family for being our accountants extraordinaire.
Randy Parker, you know, you're really good for morale. And that catch you made, sick. Cannot wait for all of our new radio adventures! Thanks for being an amazing partner in crime.
Dale Davies…hero. No words. Just…hero. You and Kareen McConnell, millions of hugs for both of you.
My family. Sometimes I catch myself wondering what I did to deserve to be a part of this family. Mom, Dad, Bre, Shay, new sis in law Brooke, Scotty and Deb…thank you, a million times over.
Jenna Dawn, thank you for being so supportive, every single day. I couldn't get through a weekend like this without you. Actually, there's a good chance I couldn't survive most days without you, lol.
Rachel Vanderzwaag, Dave, Maverick…your entire family. You're so deserving of a wish, and we are so happy it'll be happening for you. Thank you for being such a big part of the weekend. Much love to you, always.
And finally, to all of the ball players. You outdid yourself. Raising $93,000 before Saturday morning is mind blowing. Every player, every team, every donation counts. From $1,000 to $20,000, you all made a difference. Your enthusiasm throughout the weekend kept us all going. I honestly cannot thank you enough and am really hoping to see you out on the fields again next year!!