I love the connectivity of the Internet and social media but there is one part that's particularly unsavoury; the temptation to judge everything you see posted without context.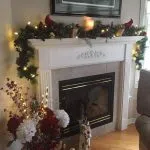 Just home from a 2-week holiday with my family and friends in Ontario and reflecting on the wonder of it all.  It was an "early Christmas" for all of us and it was "wonderful"!  I started a Facebook photo album early on so I could chronicle my adventures in photographs and no sooner had my first pics of early-Christmas cheer hit the Internet than did the first "angry-face" emoji appear.  "Why the angry-face [Becky*]?" I inquired to the one hum-bugged-out reactor.  She never did elaborate but, most often, when you see this sort of thing…people are bent out of shape because they think their desire to contain the Christmas season to the first couple weeks in December is correct and anyone who dares to jump on the holiday band-wagon a little early (by their estimation) is "ruining everything".
In my case, our early celebrations have to do with what is and isn't possible for my family and me over Christmas.  Specifically, I cannot be with them this Christmas…so, we made our own.
Not everyone can afford to pay the outrageously inflated travel prices to go home over the holidays (yes, I'm aware that if you book your travel outrageously early in the year you can get normal fares but, in my business, you simply cannot plan that far ahead and I suspect I'm not the only one in that position) and here's another thing… over the "actual" Christmas holidays everyone is too busy with their own families to have time to get together.  The wonder of Christmas, for me, has very little to do with the actual dates and EVERYTHING to do with spending quality time doing magical things with those I love.
By planning to celebrate an early-Christmas in November, I was able to (in the first week) spend two days with my oldest friend, catching up, catching a movie…being served morning coffee by her awesome husband and enjoying a couple of great meals together in Ottawa before taking a short trip down the highway to my original home-town, Kemptville, to my parent's house.  We kicked off our first stretch of time together with pedis & lunch for the girls (me, Mama Jane and my sis-in-law)… a great visit with my ailing fur-nephew Ben … a couple days just hanging at home with Papa Gerry & Mama Jane… a great visit with another of my oldest/dearest friends (Lookin' at YOU Cath)…some decorating and feast prep and then my family descended for Early-Cater-Christmas on Friday November 17th!  It was an amazing  meal and a wonderful visit and it mattered not one bit that it was a little over a month early (hey… everyone knows Jesus' real birthday isn't Dec. 25th anyway so, technically, celebrating early is actually the most traditional thing you can do!)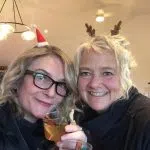 A day later it was off to Consecon ON to visit another of my nearest and dearest friends, Karen (she is a Christmas-elf year-round so her early-Christmas game is SUPER STRONG) for early-Christmas in Consecon!  We went Wassailing (going winery to winery sampling and singing Christmas carols), we foraged in the forest and along the beach for downed limbs, sticks, pine cones etc. and used our bounty to  make Christmas arrangements and wreaths that I was able to give as gifts to my family (this was originally planned to occur BEFORE early-Cater-Christmas but…hey, not everyone's schedules aligned 😉 )
…we exchanged gifts and had another Christmas feast.  We bird-watched, took in sunsets, visited Dahlia May Flower farm and OH Alpacas where I made a new friend in the lovely Heather and fell in love with yet another fluffy puppy (Pandy…OMG SO CUTE!!!!!!).  All of that in 2 and a half days, if you can believe it!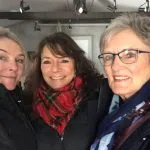 Next was an overnight get-a-way to the Thermea Winnipeg mother-ship Spa Nordik in Old Chelsea, Quebec with Mama Jane and another amazing friend Judy (aka Beatle). It was heavenly (although I will say that I think they improved upon the original with Thermea! I just appreciate what we have here in Winnipeg even more now!)
Back to home base we went for another great visit with my BFF Nan, a catch up and movie day with Miss Caroline and to cap it all off we went to a party in a church (yep, there was a cash bar and everything!) in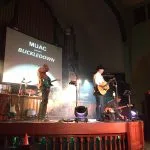 Merrickville where my brother's band, Buckledown, was the entertainment.  Got to see a bunch more family there and friends I hadn't seen in YEARS!  Just got back to my Winnipeg home last night.
All that in 2-weeks! Try that over the 'actual' Christmas holidays 😉
As for "Becky" I'd say I was sorry that my early-Christmas-vacay made you bristle but… as Canadian as I am… I'm just not sorry, eh?  Not even a little bit 😉
Happy Holidays everyone! <3
*name changed to protect the ornery 😉