…Well… I'm going to show you a couple of my faves whether or not you share but I'm hoping this inspires some great exchanges! I have a friend who closely guards her best recipes so no one can quite replicate them but I am hoping that by sharing a couple of my faves others will follow suit and we'll all have some new delights to experience this year!
'Tis the season! Holiday parties abound for the next several weeks and with parties come prize-worthy pot-luck specialties!
I may not be as good a cook as my aforementioned friend but I DO have access to a couple of the BEST holiday treat recipes there are… these two will be a surefire hit at any holiday party (unless it's a vegan party… I'm a bona fide carnivore so I'm going to need some vegan friends to share their ideas and recipes. Perfect opportunity, right here!)
First up Our Program Director, Janet Trecarten, has a Nuts'nBolts recipe that is SO eagerly anticipated by staff at Pattison Winnipeg that even former colleagues, who've been working elsewhere for years, come clambering for a sample of each year's batch.  THIS year, Janet has agreed to share her recipe with us all! (See above image for ingredients and method.)
My second offering, at the risk of sounding like a broken appy record (I've shared it before but, honestly, my people are disappointed to the point of complaining when I try to bring something different so… if it ain't broke…don't fix!) this "Wiener-Crack" recipe rarely finds a critic (unless there are vegetarians/vegans in the mix 😉 )
How to Make It
Preheat oven to 375F. Cut the bacon into thirds and wrap each smokie (I secure each with a sturdy toothpick to help people avoid sticky fingers while snacking). Now… you have 2 options.  I do NOT use the butter.  I line a baking sheet with tinfoil (be sure to use enough to cover it all, including the sides, I fold it over the ends and scrunch to secure, because the sugar makes a big mess of your pan if you don't take this step) if you're me, you then place all of your wrapped smokies on the sheet and cover GENEROUSLY with brown sugar.  OPTION 2 (with butter):  Place all the wrapped smokies in a single layer in a baking dish. Then melt the stick of butter and then 1 cup of brown sugar and stir until mixed well. Pour the butter and brown sugar mixture on the smokies and bacon. Then take the other cup of brown sugar and sprinkle evenly over the smokies.
Bake them for about 15-20 minutes and then turn the heat up to 400F for about 5 minutes or longer until the bacon becomes crispy.
All that's left now… take these to your parties and bask in the glorious compliments 😀   So… got one you want to share?…
Miss Ellie's Lemon Cheese Cake 
2 1/4   cups    Graham Cracker crumbs
2          TBSP  White sugar
1/2       cup      Butter (or marg, if you insist)
1           pkg      Cream cheese (softened) 8oz
1          cup       Icing sugar
1          container       Cool Whip (thawed)
1          pkg         Lemon Pie Filling (not instant)
Prepare pie filling as per package directions.  Cool completely (but not cold).  Pre-heat oven to 350 degrees.  In medium bowl combine graham crumbs, sugar and melted butter.  Mix well.  Reserve 1/4 cup for topping.  Press remaining crumb mixture firmly into 9×13 pan.  Bake for 8-10 minutes.  Cool.  With electric mixer, beat cream cheese & icing sugar.  Spread cooled lemon pie filling on cream cheese layer.  Top with remaining Cool Whip.  Sprinkle with reserved crumbs.  Refrigerate over night.
These are soooo delicious!!!  Feel free to double the recipe–I have many, many times.  And put it on a cookie sheet with edges.  It will disappear quickly.  Guaranteed!!!
Miss Ellie
(Thanks Miss Ellie!)
_________________
Christie de Rocquigny 
Cookie Dough Dip
This cookie dough dip is the best cold dessert appetizer. Whip up a batch in just 10 minutes!
Ingredients
1 (8-ounce) package cream cheese, softened
1/2 cup unsalted butter , softened
1 cup powdered sugar
2 tablespoons brown sugar
1 1/2 teaspoons vanilla
1 cup mini chocolate chips
1 cup toffee bits
Whip together cream cheese and butter with a handheld electric mixer. Add all remaining ingredients and mix until well-combined.
Eat right away or allow to chill in the refrigerator for an hour.
Serve with Graham crackers or apple wedges.
__________
Cassandra Stews Potato Casserole
I absolutely love the pic of the well-worn recipe card!  The messiest cards are always a great indication of the BEST recipes! <3
"2lbs frozen hashbrowns (Cassandra says cubed are best), 1 med. diced onion, 2 cans mushroom soup,  500 ml sour cream, 2c. grated cheddar cheese, 1/2 c. melted butter, salt & pepper
Mix in a bowl & put in a roaster. Bake 1hr at 350 (Place grated mozza on top, Bake 1/2 hr)"
__________
Ursula Rim They eat them right out of the freezer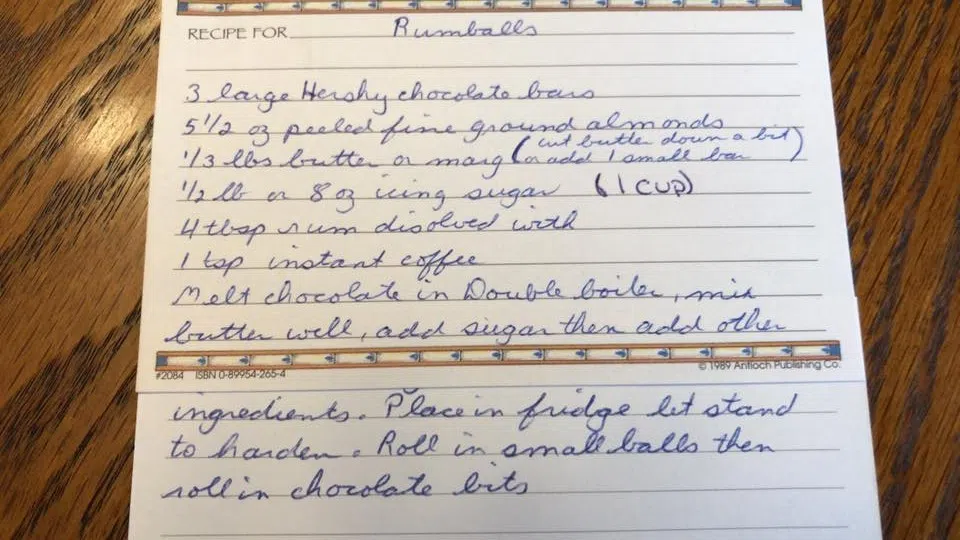 _______
Via text to 10401: Winnipeg MB Dec 5, 2018 14:43
Hi there I got a great recipe for a fruit dip.
1 pkg (8oz) of cream cheese softened 1tub of dream whip whipped cream thawed. Mix the two until well blended. Then add 1cup mini choc chips and 1/2 cup of skor bits (optional) Mix well spread in a serving dish top with caramel sauce. And start dipping in your fruit. Apples are great for this. —Jaimie
__________
Ashley Préfontaine A little late to the party but better late than never! I swear I'm far more punctual in real life. Whenever we bring something to an event, it is almost always this hot dip. Served with a baguette (or taco chips once you run out) 
https://ashleyprefontaine.epicure.com/en/recipe/5243
__________
April Lavallee Cheese Bread Recipe
———————————
Ingredients;
2 Loaves French Bread
1 Cup Mayo
2 / 8oz packages cream cheese
1 Cup Grated Cheese
1 Onion / Chopped
2 Tbs Dill Weed
Directions;
•Cut top of bread to make a lid.
•Hollow out bread carefully.( use for dipping )
•Combine remaining ingredients and fill into loaf bread.
•Replace Lid on top of loaf.
•Wrap in tin foil and bake at 350° for 2 hours.
*Extra Loaf of bread is cut up for dipping.
___________
Kimberley D Reid All Ingredients needed:
½ c Margerine
2 Cups Graham wafer crumbs
1/3 c sugar
8 oz of cream cheese
½ c sugar
2 eggs
Gelatin
14 oz of pumpkin
½ c sugar
3 egg yolks
1 tsp Cinnamon
Salt
½ milk
1/8 tsp of Nutmeg & Ginger
1 Med whip cream
Pumpkin Filling:
Put the following ingredients into a med. Pot
14 oz pumpkin
½ c sugar
3 egg yolks (save the whites)
1 tsp cinnamon
¼ tsp salt
1/2c milk
1/8 tsp of nutmeg and ginger
Bring to a slow boil, stirring often. This will thicken up
Take packet of gelatin and ¼ c water in separate bowl, combine and let sit for 5 minutes
Add to pumpkin filling, let sit and cool down
Crust:
½ c margarine melted
Add 1/3 c sugar stir well
2 c graham wafer crumbs
Combine together and press into 9×13 pan
Cream cheese filling:
8 oz of cream cheese
½ c sugar
2 eggs
Combine till smooth and pour over graham wafer crust
Bake for 20 minutes at 325
Let cool
Whip up the remaining egg whites until stiff, add ¼ c sugar
Fold into pumpkin mixture and pour over cream cheese filling
Put in fridge for a few hours to set
When set, put whip cream on
This recipe has a lot of sugar in it so you might want to use less than recipe calls for.
__________
Bev Eastcott-Leach My favourite and easiest is Fudge
Two bags of any flavour chipits
One can sweetened condensed milk
Vanilla extract (or rum)
I have added 1/4 cup liquor ‍♀️
I use the microwave 1 min at a time till melted (Chips and milk)
Add extract or flavour
Nuts or raisins or marshmallows
Spread in pan and cool in fridge or freezer
Makes 8×8 pan
I also line with parchment paper for easy removal
Enjoy  
__________
Winnipeg MB Dec 5, 2018 15:29
Fiddle diddles 2cups sugar 1/2 cup margarine 1/2 cup milk 4tbs cocoa 1/4 tsp Salt 1 tsp vanilla 3 cups rolled oats Mix margarine and milk in large sauce pan.. bring to boil cook for 2 mins stirring constantly. Remove from heat add cocoa, salt, vanilla and oats. Drop teaspoon on wax paper lined cookie sheet. Cool in freezer till set. — Sheri post
__________
Winnipeg MB Dec 5, 2018 15:00
Sugar Cookies 3/4 cup marg 1 cup sugar 2 eggs 1tsp vanilla 2 3/4 cup flour 1 1/2 tsp baking powder 1/4 tsp salt Cream together marg sugar and eggs until creamy sift dry ingredients and add to cream ingredients Mix until blended chill and roll. Bake at 350 until 7-10 minutes. Ice when cool — Cheryl
__________
Kim Cooley Parisien A few of my favourite dips!! .
Old English Pub Spread
250 g. Cream Cheese, softened
1/4 Cup Butter, softened
1 Tsp Worchestershire
1 Tsp Horseradish (Optional if you do no like)
2-3 Drops Tabasco
1/4 Cup Beer, room temperature
1/2 Tsp Crushed garlic (or 1 clove)
250 g. Imperial Cheddar
Combine all in food processor till smooth.
Put in small container and chill for 1 hour. Can be frozen.
Serve with crackers.
Savory Cheddar Spread
8 Oz. Cream Cheese
½ Cup Miracle Whip
1 Cup Grated Sharp Cheese
2 Tbsp Green Onion Chopped
8 Bacon slices, crisp, cooked crumbly
½ Cup Crushed buttery crackers (Ritz, etc.)
Combine cream cheese and miracle whip mixing until well blended.
Add cheddar cheese and onions; mix well.
Spoon into 9" pie plate.
Sprinkle with combined bacon and crushed crackers.
Bake at 350 degrees for 15 minutes.
Serve with variety of crackers.
Zesty Shrimp Dip
1 can Shrimp, drained, rinsed, chopped
1/2 cup Light sour cream or plain yogurt
1/2 cup Light Mayonnaise or Salad Dressing
1/4 cup Chopped Green Onion
2 tbsp Chili Sauce
2 tsp Horseradish
1 tsp Lemon Juice
Dash hot pepper sauce
In medium bowl, stir together all ingredients until combined. Yield: 1 ½ Cups
Shrimp Dip
1 pkg Cream Cheese
1 cup Celery, chopped fine
6 Green onion tops, chopped fine
2 cans Baby Shrimp
1 can Mushroom Soup
1 pkg Unflavored Gelatin
3 tbsp Cold Water
1 cup Mayonnaise or Miracle Whip
Pepper, garlic powder, parsley, celery salt to taste (Approx. ¼ tsp. each)
Dissolve gelatin in water over heat, add soup, pour into bowl with cream cheese and mayonnaise. Add rest of ingredients, mix well and pour into mold. Refrigerate until set.
__________
Winnipeg MB Dec 5, 2018 14:49
Taco Dip Base: 1 package cream cheese softened 1.5 cups sour cream Desired amount of hot taco seasoning Mix all together with electric mixer Spread evenly into a pie plate First layer , 1/2 lb cooked ground beef with taco seasoning Next layer drizzle on taco sauce of your choice (I use Ortega medium) Then layer on 1 medium chopped tomato Then top with 1.5 cups shredded cheddar cheese Then top with 4 stems of chopped green onions Serve with taco chips and watch it disappear! — Amber
__________
MB Dec 5, 2018 14:48
Favourite Christmas Recipe have to be whipped shortbreads – 1 cup butter, 1/2 cup icing sugar, 1 1/2 cups flour, 1/2 cup cornstarch.
__________
Selkirk MB Dec 5, 2018 14:47
Hi Leanne! Ridiculously easy recipe….. Nanny's Dip In the bottom of an oven safe baking dish, smear one package of softened cream cheese (only need it softened enough to spread). Cover with one can of hot and spicy chili. Top with shredded cheese, you'll know. Bake till bubbly and melty. Serve with Tortilla chips. Every party I have served it at, or taken it to, it has been the first dish emptied. It also works for supper. Or breakfast, I don't judge. Enjoy! -Tara
__________
Winnipeg MB Dec 5, 2018 14:45
Rum balls 1pkg cream cheese 1pkg choc.chips 1pkg butter scotch chips 1 box choc oreo crumbs 50ml run Chocolate sprinkles Mix soft cream cheese and melted choc chips and butter scotch chips mix well Add oreo crumbs and rum. Putin fridge for 30 mins then roll
__________
Via text to 10401: Winnipeg MB Dec 5, 2018 14:44
Must bring to party: stuffed mushrooms! Hollow out stem. Mix cream Chs, real bacon bits, Ched chs, green onions into mushroom caps. Then more chs on top. I'm in trouble if I don't bring them!!! 🙂 — Stephanie Ducharme 🙂
__________
Sheena Marie Broken glass torte. You can use any flavired jello
1 pkg3 oz. orange jell-o
1 pkg3 oz. cherry jell-o
1 pkg3 oz. lime jell-o
1 pkg3 oz. lemon jell-o
3 c boiling water
1 1/2 c cold water
1 1/2 c graham cracker crumbs
1/3 c butter, melted
1/4 c sugar
1 c boiling water
1/2 c canned pineapple juice
1container of whipped topping, thawed
Taste Of Home Broken Glass Torte recipe and method
__________
Kristen Page-Burns Vegan Shepherds pie
FILLING
1 medium onion (diced)
2 cloves garlic (minced)
1 1/2 cups uncooked brown or green lentils (rinsed and drained)
4 cups vegetable stock (DIYor store-bought)
2 tsp fresh thyme (or sub 1 tsp dried thyme per 2 tsp fresh)
1 10-ounce bag frozen mixed veggies: peas, carrots, green beans, and corn
1 pkg Yves Veggie ground
MASHED POTATOES
3 pounds yukon gold potatoes (or red potatoes….I never actually know how much I put in lol)
3-4 Tbsp vegan butter
Salt and pepper (to taste) (I use seasoning salt)
Garlic powder
Onion powder
Instructions
Cook potatoes.
Once cooked, drain, add back to the pot to evaporate any remaining water, then transfer to a mixing bowl. Use a masher, pastry cutter or large fork to mash until smooth. Add add desired amount of vegan butter (2-4 Tbsp as original recipe is written // adjust if altering batch size), and season with salt and pepper to taste. Loosely cover and set aside.
While potatoes are cooking, preheat oven to 425 degrees F (218 C) and lightly grease a 2-quart baking dish (or comparable sized dish, such as 9×13 pan. An 8×8 won't fit it all but close! // as original recipe is written // adjust number or size of dish if altering batch size).
In a large saucepan over medium heat, sauté onions and garlic in 1 Tbsp olive oil (amounts as original recipe is written // adjust if altering batch size) until lightly browned and caramelized – about 5 minutes.
Add a pinch each salt and pepper. Then add lentils, stock, and thyme and stir. Bring to a low boil. Then reduce heat to simmer. Continue cooking until lentils are tender (35-40 minutes).
Cook veggie ground in separate pan
In the last 10 minutes of cooking, add the frozen veggies, stir, and cover to meld the flavors together.
OPTIONAL: To thicken the mixture, add 2-3 Tbsp (amount as original recipe is written // adjust if altering batch size) mashed potatoes and stir. Alternatively, scoop out 1/2 of the mixture and whisk in 2 Tbsp (amount as original recipe is written // adjust if altering batch size) cornstarch or arrowroot powder and whisk. Return to the pan and whisk to thicken.
Once all is cooked mix veggie ground in with lentil mixture
Taste and adjust seasonings as needed. Then transfer to your prepared oven-safe baking dish and carefully top with mashed potatoes. Smooth down with a spoon or fork and season with another crack of pepper and a little sea salt (or whatever other seasoning you wish -i use garlic powder and seasoning salt.
Place on a baking sheet to catch overflow and bake for 10-15 minutes or until the mashers are lightly browned on top.
Let cool briefly before serving. The longer it sits, the more it will thicken. Let cool completely before covering, and then store in the fridge for up to a few days. Reheats well in the microwave.
__________
Lindsay Conley Taco dip, is requested ANY time we go anywhere! Equal parts cream cheese and sour cream(usually a cup of each) and about 2 tbsps of taco seasoning. Top with shredded cheese, lettuce, tomatoes, jalapeños and/or ground beef!
__________
Amber Morrison 1 cup peanut butter
1 pkg butterscotch chips
1 cup margarine
1 bag mini marshmallows
Melt first 3 and mix till smooth, add marshmallows, put in non-stick 8×8 pan, refrigerate till hard…
Enjoy!
An oldie but my favorite ❤
__________